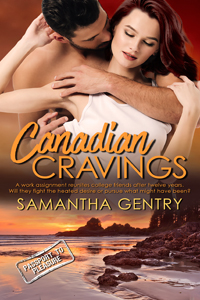 CANADIAN CRAVINGS/Passport To Pleasure series from The Wild Rose Press www.thewildrosepress.com for their Scarlet Rose line of erotic romance. ISBN 978-1-5092-4916-9 Digital

A work assignment reunites college friends after twelve years. Will they fight the heated desire or pursue what might have been?

Available for pre-order:
Amazon
Barnes & Noble
Also available at other online vendors

Addie Burton has a successful career as a photojournalist for an international travel magazine. When her new assignment in Canada brings her in contact with a friend from college she hasn't seen in twelve years, the attraction is instantaneous. She's ready to mix business with pleasure.

Knox Mallory is shocked to discover the photojournalist doing the magazine article on his company is a woman who had sparked his lust during his college days. Family circumstances had prevented him from acting on his desire, but he's hoping to resurrect what might have been.

Can two weeks satisfy their Canadian cravings or will it lead to more?
G-Excerpt #1
PG-Excerpt #2
PG Excerpt #3
G-Excerpt #4
G-Excerpt #5
G-Excerpt #6

G-Excerpt #1
Knox escorted Addie inside the charming waterfront bistro. "This is one of my favorite restaurants."
They were seated at a window table with a spectacular ocean view. He ordered champagne, and they made their dinner selections from the menu.
He held up his glass of champagne toward her. "Here's to renewing our friendship. Here's to the future..." He tilted his head to one side and extended a questioning look as he raised an eyebrow. "...and to exploring what might have been?"
They clinked glasses, and each took a drink. The candlelight flickered across her face, reflecting in the sparkle of her green eyes. Her auburn hair feathered softly around her face like a frame for an exquisite work of art. The years had truly enhanced her natural beauty. The college freshman he had been attracted to twelve years ago had become a stunningly beautiful and desirable woman. Very desirable.
"I can't believe we never dated in college." His voice conveyed pure sex as he drew his finger across the back of her hand where it rested on the table. The sensation of her smooth skin confirmed how much he wanted to explore every fantasy he ever had about her, and the number of times he had fantasized were many.
"There's an easy explanation for that." A spontaneous laugh escaped her throat. "You never asked me out."
His laugh joined hers. "Well, that was certainly my bad -- and very foolish of me." And at that time an unfortunate situation in which I had very little control or choice.
"What about you? Are you, uh, are you married? Engaged? Or divorced?"
"None of the above. In taking over the business, I guess I just haven't had the time to give it any serious attention." Knox swallowed the last of the champagne in his glass. For reasons he didn't fully understand, he chose not to say anything about his one and only brief engagement to Crystal, which was now ancient history.
Addie's mention of a cheating fiancé had hit a vulnerable spot inside him. Crystal had turned out to be a gold-digger who cheated on him for the entire duration of their time together. He subsequently discovered her name was really Cheryl, something she felt was too common for her purposes. It had been an experience that heavily impacted any thought about a committed relationship and certainly about the ultimate commitment of marriage, a situation he and Addie apparently had in common.
He shoved the uncertainty away, refusing to dwell on why he had chosen not to mention his broken engagement, even though it was an emotional issue they shared.
"So, as I said, perhaps we can explore what might have been twelve years ago?" He leaned forward across the table and brushed a soft kiss against her lips, an impulsive gesture.
A brief moment of a startled expression crossed her face but quickly disappeared. He extended a smile he knew spoke volumes about how he hoped the evening would go.
"It's my understanding you'll be in Canada on this assignment for about two weeks. That will give us a lot of opportunity to spend time together...to catch up on everything." He studied her for a moment. "And perhaps pursue what never really got started?"
"That sounds interesting." The number of times he had referred to what might have been had not escaped Addie's notice. She had no doubts or confusion about exactly what he meant.
He looked at Addie sleeping in his arms where she had been all night. They had made love two times before finally falling asleep. Without a shadow of a doubt, it had been the most incredible sex of his life with the most extraordinary woman he had ever known. But it had turned out to be much more. It had been the most profound night of his life. Twelve years lost. Twelve years in which they could have been forging a lifetime together.
The reality of his thoughts suddenly hit him full force. Lifetime? When and why had he started thinking in terms of lifetime commitment? This was a woman he had not been in contact with for twelve years, and before that, their relationship had been one of platonic friends. Regardless of what either of them may have thought or felt at the time, he had never made any attempt to move it beyond that. The circumstances surrounding his personal life -- his father's failing health and the running of the company being at stake -- hadn't allowed him time or the inclination for a serious relationship.
But now, after last night... He tried to shake away the errant thoughts. Hot sex did not create a valid foundation for a true committed relationship -- for a lifetime. But he could not dismiss what he knew were serious feelings that he had back then, ones now intensified to a level he had never experienced or anticipated.
His gaze swept across her. Once again, confusing emotions welled inside him. He had spent a year getting to know her as a person on a strictly platonic level. He knew her intelligence, humor, honesty, interests, and compassion. And after last night, he now knew and relished every inch of her physical being.
"When you get back from the train excursion for your article, we'll go someplace special for dinner. Won't you still have a couple of days before you need to return to Seattle?"
"I might be able to work out a couple of days of wiggle room before I need to be in my office at the magazine. However, I can't think of any place more special than that beautiful inn on Vancouver Island where we spent the weekend."
They talked for a few more minutes before terminating the call. Addie had tried to avoid thinking of the end of her assignment, of the day she needed to return home and throw herself into writing the article and making the final selection of the appropriate photographs to illustrate it. The drive between Seattle and Vancouver was less than three hours. It would be easy to spend weekends together.
Then a dark cloud of doubt and concern settled over her. The time she had been in Vancouver, the time they had spent together, had it only been the convenience of them being in the same place at the same time? Twelve years since they last saw each other, and the moment he walked through the door of Greg's office, it was as if they knew each other but were meeting for the first time.
Would he want to maintain a long-distance relationship? Granted, it wasn't that far, but it precluded having lunch together or a last-minute decision to have dinner or go to a movie. They would be limited to weekends and nothing spontaneous. He headed a successful corporation in Vancouver and couldn't relocate to Seattle. Her job could allow her to settle in Vancouver and still take assignments from the magazine, but it was a moot point. He hadn't indicated anything permanent, hadn't mentioned anything beyond the immediate future of a couple of days after she returned from the train tour.
Her ringing phone startled her out of her thoughts. Assuming it was Knox again, she answered it without checking the caller I.D.
"Hi, Addie. I hope I'm not calling too late."
"Corey!" A quick surge of anger darted through her. "I told you not to call me again."
"You didn't tell me you were in Canada... specifically in Vancouver."
"How did you know that?"
"Your magazine told me you were there on assignment."
"Well, I'll have to talk to them about that when I get back. They're not supposed to give out personal information on me to strangers."
"I'm not a stranger. I'm your fiancé."
"Perhaps once, long, long ago in a galaxy far, far away. But not here, not now, and very definitely never again. I don't know how much more succinct I can be. Am I going to have to take out a restraining order on you? Do not call me. Do not try to see me. Do not try to contact me in any way. Have I made myself clear? Do you understand?"
The train whistle interrupted her thoughts signaling their departure. Then the train slowly started to move. A little flutter of excitement flitted around in her stomach. She watched out the window. The train gradually gained a little speed as it pulled away from the platform. Then movement and commotion on the platform caught her attention. Someone tossed a suitcase in the open door of the car behind hers then grabbed the handrail and swung up to the stairs, boarding the train literally at the last second before it had gained enough speed to prevent the action.
She couldn't stop the amused chuckle that escaped her throat. Is that normal procedure? Last man on the train as it's pulling out of the station? Or has a late arriving employee almost missed showing up for work?
She continued to watch until the train cleared the platform, left the station, and headed down the tracks. The clackety-clack of the train wheels on the rails told her the excursion had officially started.
She returned to her work as she checked the daily itinerary Jimmy had given to the guests. Before she could become absorbed in making notes for her article outline, the sound of someone knocking at the door of her cabin interrupted her.
One of the guests taking me up on my offer to answer any questions or to give their opinions about the trip even though we just left the station? Or maybe wanting to comment on a previous trip they had taken?
As soon as she opened the door, she felt as if all the oxygen had been sucked out of the room, that she couldn't breathe. Then overwhelming joy quickly replaced the shock. Tears of happiness welled in her eyes. On the other side of the door, looking more desirable than anyone had the right to, stood Knox Mallory.
"What are you doing here?" She blurted out.
A teasing grin tugged at the corners of his mouth. "That's not a very friendly greeting, especially after I risked life and limb leaping onto a moving train." He reached out and lightly touched her cheek. "May I come in?"
G-Excerpt #6
Addie emerged from the restroom just in time to see the woman slide her arms around Knox's neck again and paste her mouth on his. She caught the woman's gaze, a moment that told Addie this intruder was determined to get her way. Then the woman reached past Knox and shoved his office door closed.
Addie waited a minute, but the door never opened. She turned to the receptionist and forced a smile. "Well, I see Knox is busy. I'm due back at my office in Seattle this afternoon, and I still have to pack. Please tell him I appreciate the terrific cooperation of his staff, particularly Greg Sinclair. Knox will have a final copy of the upcoming article before it goes to press, per his contractual agreement with the magazine."
"Certainly, Ms. Burton. I'll give him the message." She glanced uncomfortably toward Knox's closed office door, then returned her attention to Addie. "Have a safe trip home."
"Thank you."
Addie hurried to her car, fighting the tears and hurt. She loved him so much. The mature, adult thing to do would have been to give him the benefit of the doubt, remain in the reception area, and wait for him to give her an explanation. It was obvious that he and this woman had history. She also allowed the thought that the woman's action with the kiss and closing the door had happened so quickly that he didn't have time to react before the door closed.
But that thought became lost in another thought. He had seemed unhappy about her calls from Corey even after she explained what they were. She had been up front and honest with him about her two engagements. The pain of his obvious deception raked across every part of her consciousness as she drove to her hotel. She had never felt so devastated, so betrayed, so lost -- so heartbroken.