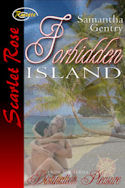 FORBIDDEN ISLAND is published by The Wild Rose Press and released from The Wilder Roses, the Scarlet Rose line of erotic romance. The book is available in ebook from Amazon and other online vendors.
Where Murphy Abbott is concerned, Chantal Stevens can't stop asking herself...what if? Chantal met the incredibly sexy industrialist when he gave the commencement speech at her college graduation. He was polite and charming, yet the promise of ecstasy in his eyes mesmerized her. The moment he shook her hand, she knew she wanted to know him...in every way possible.
Now, ten years later, Chantal misrepresents herself to finagle an invitation to his isolated and very private Caribbean island in order to seduce him and finally discover the answer. One thing she failed to consider...Murphy might have a hidden agenda of his own.
Reviews:
Whipped Cream Reviews gives FORBIDDEN ISLAND 4.5 Cherries
"Sometimes a chance encounter is all it takes to leave a lasting impression. Want to know more? Visit Forbidden Island and learn more."
"Ms. Gentry writes an interesting short story, sizzling with steamy sex scenes and a budding passion Chantel and Murphy can't deny. I loved the descriptions of the island; you felt like you were really there with them."
"Once Chantal and Murphy got together, they really did burn up the sheets, the pages, and the story! You could feel the trust between these two people, even so early in the tryst. If you want a sexy read for a cool summer night, then I'd suggest Forbidden Island."
Reviewed by: Tiger Lily
http://www.longandshortreviews.com/WC/recentrev.htm
Romance Junkies gives FORBIDDEN ISLAND 4.5 Blue Ribbons
"Samantha Gentry's FORBIDDEN ISLAND is the newest title in Wild Rose Press's [The Wilder Roses] DESTINATION PLEASURE line. Chantal and Murphy's scorching hot romance is only intensified by the exotic location. Despite there being ten years since they last saw each other there's an undeniable connection between these characters and they certainly don't waste any time making up for all the years they've been apart. FORBIDDEN ISLAND brings to mind all those fantasies about a romantic encounter with someone special in your own private paradise."
By Romance Junkies Reviewer: Chrissy Dionne
http://romancejunkiesreviews.com/artman/publish/contemporary/Forbidden_Island.shtml
Mistress Bella Quickies Review has this to say about FORBIDDEN ISLAND:
"Forbidden Island had a very sexually stimulating plot line. Who wouldn't want to go back and answer all the "what ifs" that ran through their minds through the years about someone from their paths. Chantal's character was a woman bound and determined to get answers to her questions. Murphy's character was that hot rich industrialist who I couldn't help but get weak in the knees for. In just a short time, I was able to take a peek into the lives of these two very sensual people."
"If you are looking for a stimulating and sexually arousing read, then this is the book for you. It's short enough to read when you have just a few moments and you want to find a book to escape into. I do look forward to reading more of Ms. Gentry's work."
Heat Level: Explicit
Reviewer: Elizabeth
http://mistressbellaquickies.blogspot.com
Her body language told him more than her words as she nervously shifted her weight from one foot to the other. Her gaze darted around the room landing everywhere except on him. It all screamed deception.
"Don't play games with me, Chantal." A grin tugged at the corners of his mouth as he imagined her out of her clothes and stretched across his bed. "Unless they start with everyone being hot and naked."
"Well..."
A crimson flush spread across her cheeks and forehead. Her tautly puckered nipples shoved against the soft fabric of her T-shirt, confirming what he had already noticed--she wasn't wearing a bra. Had he touched a nerve that caused her embarrassment? Or better yet, had he hit on an interesting way of spending the day that was acceptable to her?
Heated desire spread through his body, and his cock twitched as it came to life. He was more than willing to put his curiosity about what brought her to his island on hold in favor of a far more interesting pursuit. He took a swallow of his beer and carefully studied her while waiting for a response to his blatantly suggestive remark.
He didn't have to wait long.
A sexy smile slowly spread across her face. "What kind of hot and naked games do you like to play?"
That was all the encouragement he needed. There was no mistaking the twinkle in her blue eyes, a color nearly the same hue as her shorts and T-shirt. Her lipstick matched her fingernail polish, the same shade also decorating her toenails peeking out from her sandals. Her breasts rose and fell with her increased breathing. She had crossed his mind many times over the last ten years. And now fate had brought her to his personal piece of paradise for reasons he didn't know...at least not yet.
No way would he allow this opportunity to get her into his bed slip through his fingers a second time. He could already taste her and feel his cock buried inside what he suspected was a hot, juicy and tight pussy. When he first met her, she had been a tempting treat. And now...somewhere during the intervening years she had turned into a tantalizing, vibrant woman whose mere presence grabbed his libido and wouldn't let go.
He walked around the end of the bar and stood next to her. He brushed feathery wisps of her blonde hair from her cheek, then trailed a fingertip down her arm to the back of her hand. The creamy texture of her skin stimulated his senses. "If you'd like to accompany me, I'll be glad to show you." Holding out his hand, he tilted his head to the side and shot her a look that was half question and half challenge.