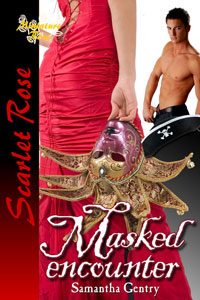 MASKED ENCOUNTER is available as part of Erotic Encounters Anthology and as an individual ebook from Amazon and other online vendors.
When fantasy becomes too hot to handle, what's a girl to do?
Trish Andrews wants one fantastic night of hot sex with her boss, Jonathon Rutledge, but how can she make it happen without him knowing the identity of his mystery lover? When an invitation to a masquerade lands on Jonathon's desk, crashing the party in a killer red dress seems like the perfect opportunity to turn fantasy into reality.
Reviews:
From Joyfully Reviewed:
"Trish's daydream that starts out in Masked Encounter showing me just what could be awaiting me further in this story. Trish's character is so proper and businesslike while at work, but when she is given the opportunity to pretend to be some else the difference is a total opposite. Jonathon's character is a mix of the jaded playboy and the professional owner of a successful business. Ms. Gentry made Trish and Jonathon characters mesh perfectly not only when working together but during their erotic night. Office policy takes a fun tumble when Jonathon finally locates his masked lady who was right under his nose the entire time. I found Masked Encounter a lovely and steamy way to spend a couple of hours. This is another story that will be placed prominently in my short story library." - Jo, Joyfully Reviewed
"What happens when one night turns into two? And it goes from being strictly hot steamy sex to something more? What do you do when you discover you haven't just lusted after your boss for three years, you've fallen in love with him too? You read this wonderful short story to find out."
"Ms. Gentry gives a new spin to an old tale with this well written story. The sex is hot, the characters likeable and realistic enough to be believable, and the love wins in the end. What more could you ask for in a story, I ask you. This is a tale I could easily have seen made into a full-length novel. But it's also a great before bed read." - 3.5 Hearts (an excellent read), Angi, Night Owl Reviews
"Masked Encounter plays upon many of our secret fantasies. Who of us at one time or another in our lives haven't imagined having sex with our good-looking boss? Unlike us, Trish doesn't lack the nerve to something about it. What about the fantasy of sex with a "stranger?" Again, Trish has this angle covered when she hatched her scheme. Though she's a bit nervous, that doesn't stop her from implementing her plan to get her boss into bed."
"As Jonathan begins to develop feelings for his mystery lover, I began feel sorry for him and I, for one was glad he began to look in his own backyard so to speak. The story offers a cute take on Cinderella throughout, as well. For everyone who likes good, incredibly hot sex, a sweet story and happy endings, Masked Encounters is a feel good read for any afternoon." - Hibiscus, WHIPPED CREAM EROTIC ROMANCE REVIEWS FOR LONG AND SHORT FICTION
"This book is awesome! A great read for those on the go. Jonathon is sexy and commanding in a very sensual way that will have readers panting. Trish is a courageous heroine who makes up her mind to go after what she wants and doesn't regret it in any way. The love scenes are intense and very steamy so readers will need to keep a fan handy. Samantha Gentry has penned a wonderful story of one's woman's determination to make her fantasy come true." - 4 1/2 hearts, Angel, The Romance Studio
Excerpt #1 (adult excerpt, opening scene)
As much as she tried, she didn't seem to have any control over her own body. Moisture seeped from between the delicate folds of her femininity. Her heart pounded in her chest and her pulse raced. Nipples puckered into taut peaks. Breasts rose and fell with each ragged breath she sucked into her lungs.
She watched, fascinated by the way he slowly peeled off his shirt, almost as if he had chosen to perform a slow strip tease for the enjoyment of an audience of one. The candle light shimmered off the hard planes of his well defined chest. His sexy smile spoke to her, telling of all the delights the night would bring. Making eye contact with him, she held it just long enough to see the heated desire smoldering in the depths of his green eyes.
Her body trembled in anticipation of what she knew would be the hottest sex she had ever experienced. The tip of her tongue ran across her upper lip as her gaze dropped to his crotch and the noticeable bulge that promised passion beyond her wildest expectations. She scrutinized his every move as he lowered his zipper --
"Hey, Trish."
Julie's voice abruptly intruded into the fantasy, jerking Trish Andrews back into the here and now. She tried to clear the sexy image from her mind, an easier task than stopping the sensual excitement that flooded her body and dampened her panties.
"I don't know where your mind was, but you'd better get it back on work. Mr. Rutledge just pulled into the parking lot."
"What?" Her eyes widened in shock as Julie's words caught her totally off guard. "Oh, no! I didn't think he'd be in this morning." She did a quick perusal of her office, her attention drawn to the unopened mail and the fact that she hadn't even turned on her computer yet. "He just got back from London late last night. I didn't expect to see him until after lunch." She shook her head in disbelief. "The man is too much of a workaholic. He couldn't even take the morning off."
Pushing back from her desk, she extended a grateful smile toward her friend. "Thanks for the warning, Julie."
Trish had been Jonathon Rutledge's administrative assistant for the last three years and the executive vice president's secretary prior to that. When her predecessor retired, she had applied for the opening in Jonathon's office. She had worked for Rutledge Industries a total of nine years, starting right after she graduated from college. She enjoyed her job and admired the man who headed the corporation. But business acumen wasn't the only thing she admired about the dynamic, handsome and very sexy Jonathon Rutledge.
Excerpt #2 (adult excerpt)
The low cut floor length evening gown clung to her curves, seeming more like something that had been painted on her body rather than a piece of clothing. It left just enough to the imagination to whet Jonathon Rutledge's appetite for more.
The back dipped dangerously low. The side slit reached half way up her thigh. The front seemed to be nothing more than two strips of fabric extending upward from her waist and meeting at the back of her neck while managing to barely cover and contain her breasts. There was no way she could possibly have anything on underneath.
Jonathon had noticed the stunning blonde in the red dress the moment he arrived at the party. He could almost feel the silky strands of her shoulder length hair as it tangled around his fingers. Her Mardi Gras style mask covered most of her face in feathers, sequins and glitter. Her hips swayed in a seductive glide as she walked across the floor.
He spotted his host standing at the bar and sauntered toward him, trying to appear much more casual than he felt. He kept a watchful eye on the stunning vision in the red dress as he crossed the room.
"Jonathon." Marty Collins stuck out his hand in greeting. "Good to see you. I wasn't sure you were going to make it."
"I wasn't sure, either." He shoved his mask up on his forehead, then shook hands with Marty. "I had to fly to London to salvage a business deal that was about to fall apart. I just got back night before last. I didn't want to miss the festivities." He scanned the room, noting everything that came across his line of sight. "This is quite a shindig you've thrown. It's been a long time since I attended a costume party."
"I had a lot of social obligations I owed to various business associates, so I decided to take care of all of them at once by renting the hotel ballroom and throwing a lavish masked ball."
Marty scrutinized Jonathon's costume from the buccaneer hat and head wrap bandana with attached beaded braids, the long-sleeved shirt with wide collar topped by the leather vest, the cutlass hanging from the leather belt, on down to the black boots. "Captain Jack Sparrow, I presume?" An amused grin spread across his face. "Aren't you a little off course? We're no where near the Caribbean."
"This was my second choice." A sly grin tugged at the corners of his mouth. "I had planned to wear just the mask and a pair of black socks while sporting an impressive erection and claim I was dressed as a porn star."
Jonathon glanced toward the French doors leading to the large balcony. The rain continued to pound against the glass without any sign of let up. "Unfortunately the weather turned cold. I decided a black mask and black socks with only a cock cozy to keep me warm wouldn't have been appropriate even if the cock cozy looked like a hot dog bun."
Marty's appreciative laugh filled the air. "Well, if anyone could get away with something like that, it would be you."
Jonathon grabbed a glass of champagne from the tray as the waiter passed by. "Of course," he indicated the stunning blonde vision across the room, "that's a body that would have kept the blood rushing hot and my soldier standing at full attention no matter how cold the weather was." A twitch in his groin told him just how accurate that statement had been. He took a swallow from his glass as he watched the object of his fascination for a moment.
"So, tell me, Marty...who is she and why haven't I ever seen her before? One doesn't forget a body like that. Have you been keeping her all for yourself?" Jonathon gave his friend a teasing wink. "Does your wife know about her?"
A slight frown crossed Marty's face. "I have no idea who she is. I had assumed she was someone's date, but she doesn't seem to be with anyone in particular. She's danced with several people but never the same man twice. She appears to be here solo."
Jonathon pulled himself up to his full six foot-two inch height, squared his broad shoulders and pulled his mask back into place. "Don't concern yourself with this problem. I'll get to the bottom of this or my name isn't Captain Jack Sparrow." The bottom, the top, the front, the back, that most desirable place nestled between those incredible legs...
He placed his empty champagne glass on a tray, grabbed two full glasses and carried them across the room.
"Allow me to introduce myself. Captain Jack Sparrow at your service." He handed her one of the glasses of champagne, gave a courtly bow, and took her hand in his. Rather than kissing the back of her hand, he kissed the inside of her wrist. The heat of her blood rushing through her veins warmed his lips. "May I ask what such a demure, innocent maiden is doing here all by herself?"
Her gaze slowly traveled from the top of his hat down to his boots, then back to his face. He could see the sparkle in her blue eyes and her delicious looking mouth, but the rest of her face remained hidden behind her mask.
There was something vaguely familiar about her eyes and mouth, but he couldn't place where he'd seen them or who they belonged to. Or even whether it was real or just his imagination. An image popped into his mind, a picture of his rigid cock sliding in and out of that delicious looking mouth with her perfect lips forming a seal around his shaft.
She ran the tip of her tongue across her upper lip. "Tell me, Captain Sparrow," she dropped her voice to a seductive whisper, "what makes you think I'm so innocent?"