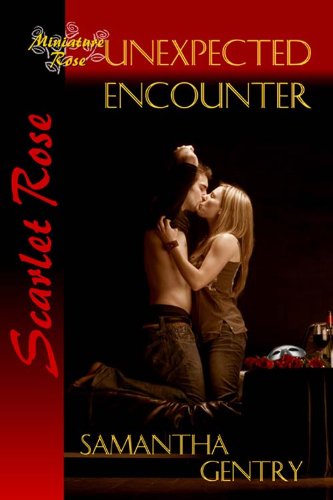 UNEXPECTED ENCOUNTER is available as part of Erotic Encounters Anthology and as an individual ebook from Amazon and other online vendors.
A proper bank employee climbing the career ladder, Shasta Brooks fantasizes about sexy computer consultant, Dane Wingate, every time he's in the bank... and even when he isn't. Much to her dismay, he hasn't asked her out even though he openly flirts. Then her friends throw her a well-intentioned thirtieth birthday party and hire the hottest male stripper in Seattle to help her celebrate. There's no mistaking the man behind the mask. Dane's secret is safe with Shasta, but now that she knows, she's ready for a private performance.
Reviews:
The Romance Studio gives UNEXPECTED ENCOUNTER 4.5 hearts:
"This is a very hot, erotic read! The attraction between Shasta and Dane is felt from the very first time they are together and grows increasingly throughout this tale. Ms. Gentry does a wonderful job enticing the reader along with how these two figure things out. Will they be able to find common ground or will it be a crash and burn affair? Getting to the end result keeps the pages turning in this steamy read. This is a well-written spicy story guaranteed to spice up your day!" - Tj, The Romance Studio
Fallen Angels Reviews gives UNEXPECTED ENCOUNTERED 5 Angels:
"Unexpected Encounter jumps right into fun with one heck of a birthday party. Dane is definitely an unexpected pleasure as the masked Macho Marauder. It is easy to see him as a sensual dancer with quite a bit to hide. I thoroughly enjoyed the interaction between Dane and Shasta. The sex is amazing and naughty, making it even more fun to read. I found myself impatiently waiting to see what the outcome would be. Ms. Gentry has believable characters that are well written. She tells a visual tale with words." - Dawnie, Fallen Angels Reviews
"Unexpected Encounter caused a smile to spread across my face from page one. I devoured every page, indulging in the sexual encounters, so well described that I couldn't help but imagine myself in Shasta's skin. I lusted... not only for that, but for the truth to come out between the pair of lovers. In barely a few pages Samantha Gentry, gets you traveling through a rainbow of assorted feelings. Her well thought out characters make it all the more realistic; something that could happen to any one. The neat point of view exchanges and the well described scenes make it an easy and fast read. The coup de grèce is well mastered and left me once more staring at the screen with a satisfied grin." - Bittersweet, WHIPPED CREAM EROTIC ROMANCE REVIEWS FOR LONG AND SHORT FICTION
"Right from the beginning, I could tell that Dane and Shasta were smoldering even while just seeing each other across the bank teller's counter. As I read on and found out the reasons behind Dane's actions, I was with Shasta in wanting to help him. Don't get me wrong; there are plenty of sexy scenes and eroticism that kept me humming right along. Unexpected Encounter is one of those books that you just wish was a bit longer because you want to know what happened next." - Jo, Joyfully Reviewed
Excerpt: PG-13 excerpt
Gillian quickly disconnected from the call. "Can I have everyone's attention? I know some of you have to work tomorrow morning, but we have one final surprise for our birthday girl before the evening comes to a close. Standing on the porch right now is the hottest male stripper in Seattle who has stopped by to give Shasta a very special birthday present. Ladies..." She nodded to Trudy who opened the front door. "I give you the one and only, the Macho Marauder in the flesh. And what delicious looking flesh it is, too."
Six-feet one-inch of tanned skin covering hard muscle stepped through the door and into the living room. Dark, shoulder-length hair framed a face hidden behind a mask. Tight black pants hugged his long legs, stretched across a perfectly rounded ass and accentuated an impressive bulge at his crotch. Broad shoulders and the hard planes of a bare chest supported the black flowing cape. The entire package oozed pure sex. Orgasmic electricity crackled in the air.
He glanced around the room at the assembled women, each wearing a look of anticipation. Then his gaze fell on Shasta.
She didn't know which shock was greater, the one she felt or the one she saw in his eyes. The dark hair didn't belong, but there was no mistaking those mesmerizing turquoise eyes and that devastatingly sexy smile. Her fantasies paled in comparison to the reality that dominated her living room in the person of Dane Wingate.
Shasta forced herself up from the chair, slightly unsteady on her feet from a combination of champagne and shock. She held out her hand toward him. "Now, this is the type of birthday present a girl can truly appreciate. It's a pleasure to meet you... Mr. Macho Marauder."
Excerpt 2: PG-13 excerpt
His weight settled into the bed, bringing her thoughts back to the present. She opened her eyes, but the sight that greeted her was not what she expected. His expression showed an uncertainty, a level of apprehension.
Or was it just her imagination? Could she be projecting her own fears and concerns about where the night and their relationship was headed onto the moment?
A tremor of anxiety shivered inside her as she softly touched his cheek. He captured her hand in his and brought it to his lips, kissing her palm. A fleeting gesture of intimacy, but the physical contact warmed her heart and soul. As absurd as it sounded, she wondered if she could actually be falling in love with this man who seemed so open and honest on one hand, yet retained an air of mystery and hidden secrets on the other.
An uncomfortable embarrassment settled over her. She felt pressured to say something to break the silence and cover up her nervousness and the sudden surge of trepidation. "There's some cold pizza left in the kitchen, along with some champagne. Are you hungry? I could stick the pizza in the microwave and heat it up if that would make it more tempting for you."
"Being here with you is all the temptation I can handle." He brushed a tender kiss across her lips, then allowed a warm smile. "But I am kind of hungry."